Product Detail
Product Tags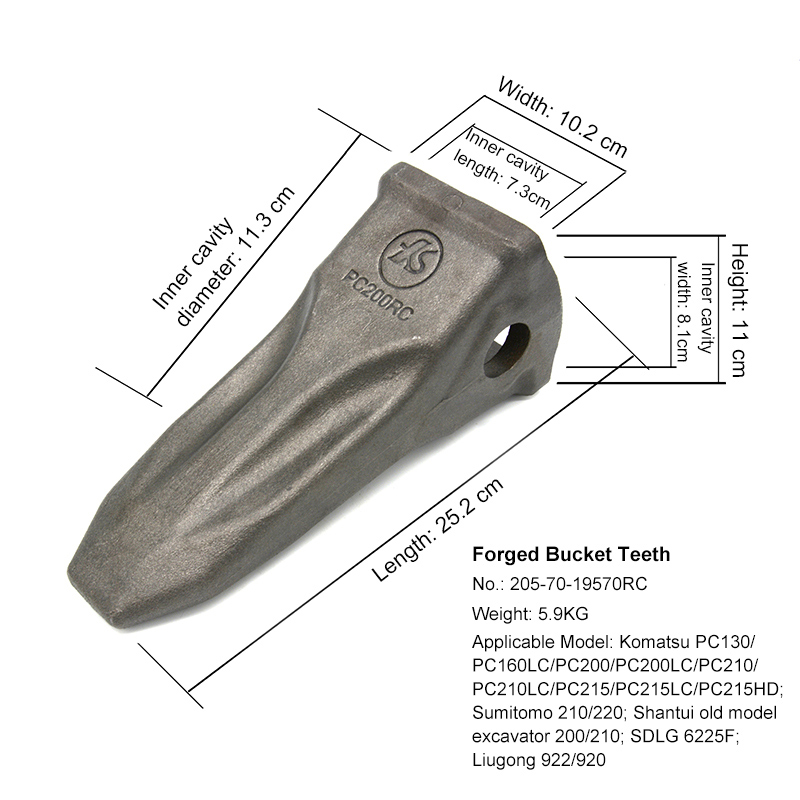 | | |
| --- | --- |
| No. | 205-70-19570RC |
| Applicable model | Komatsu PC130/ PC160LC/ PC200/ PC200LC/ PC210/ PC210LC/ PC215/ PC215LC/ PC215HD; Sumitomo 210/ 220; Shantui old model excavator 200/210; SDLG 6225F; Liugong 922 |
| Product weight (kg/pc) | 5.9 |
| Production status | In production |
● Inner cavity diameter: 11.3M
● Width: 10.2CM
●Inner cavity length: 7.3CM
●Height: 11CM
●Inner cavity width: 8.1CM
●Length: 25.2CM
Why Do We Make: Forged bucket teeth The Products Comparison Conclusion.
Higher production technology level than cast bucket teeth, stable quality;
Decided production shape, good for mass production
Improvable performance index, tooth shape design and reducing customer cost by more than 30%.
Automatic assembly line production, less manual labor, low electricity consumption reduced by 50%, qualified less pollution production promoted by government.
Intensive plant area, efficient infrastructure investment
Mature products but unstable quality.
Limited by process craft, the production is close to the economic limit for high wear resistance so that hard to be improved.
High electricity, labor costs and decentralized plant size, inefficient landuse.
Lots of dust, solid waste, considered as pollution industry.
The types of bucket teeth should be selected based on the working environment, and the right teeth shape can reduce the digging resistance and save fuel. When the sharp part of the bucket teeth is worn severely, the force required for the excavator to complete the cutting action will be increased greatly, resulting in greater fuel consumption and affecting work efficiency. Therefore, it is necessary to replace the bucket teeth with new ones in time when you check serious loss of the bucket teeth.
During the daily maintenance of the excavator, take a few minutes to check the bucket teeth every day. You should mainly check the bucket teeth for wear. Replace with a new sleeve in case of serious wear. In addition, you should kick the bucket teeth to check whether the bucket teeth are stable, and if the bucket teeth are loose, you should tighten them immediately.
Package of carbon steel seamless pipe
Plastic caps plugged at the two sides of pipe ends
Should be avoided by the steel strapping and transport damage
Bundled sians should be uniform and consistent
The same bundle(batch) of steel pipe should be came from the same furnace
The steel pipe has the same furnace number,the same steel gradethe same specification
---
---